How to scan a document to email or FTP
using the

CERI

network scanner

The Brother MFC-8870DW network scanner, located in
CERI
house 1 (3904 Central Avenue), is pictured below: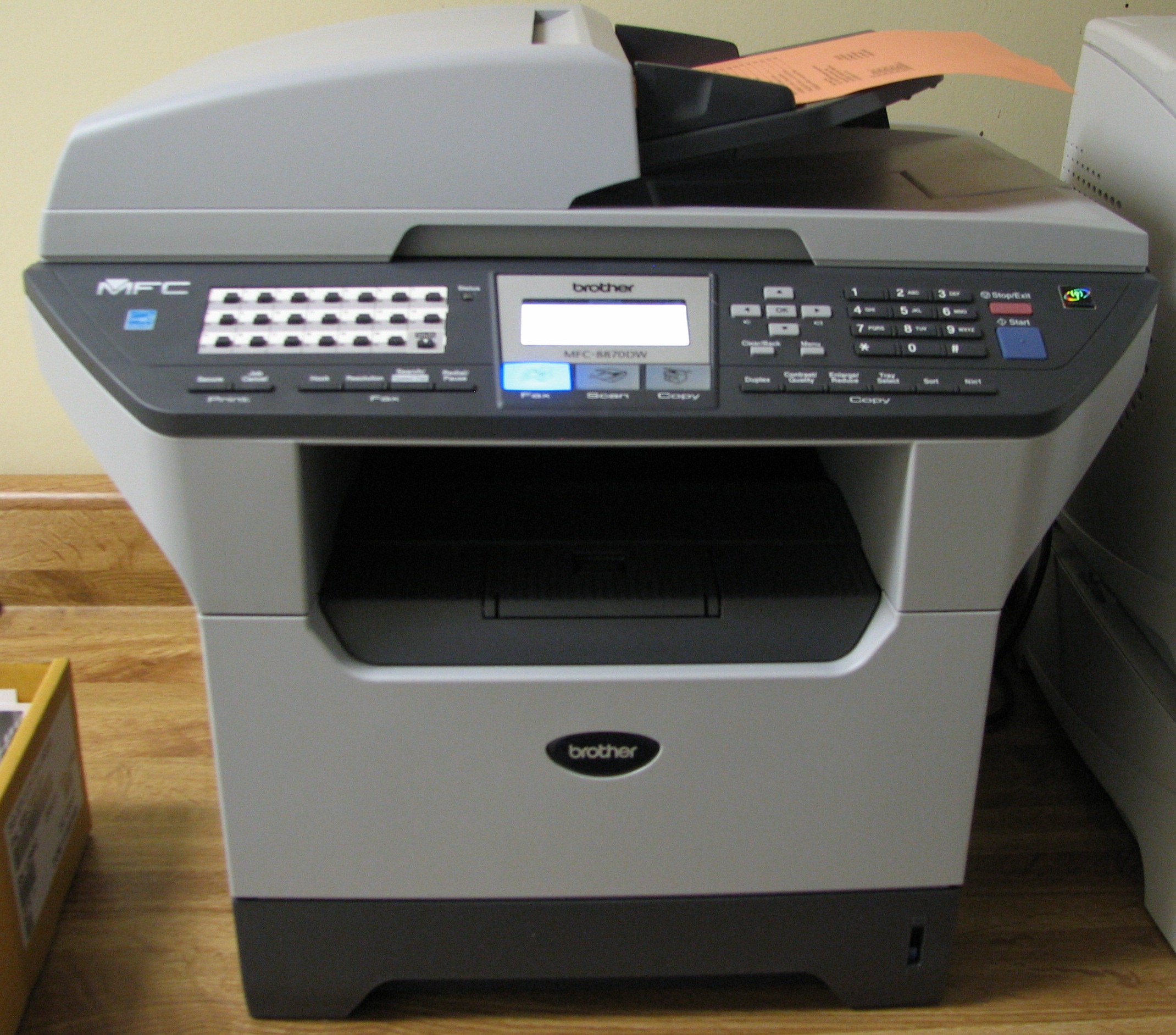 [In the following document the term
ADF
refers to the "automatic document feeder",
which is the feed tray you see where the orange sheet of paper is sitting]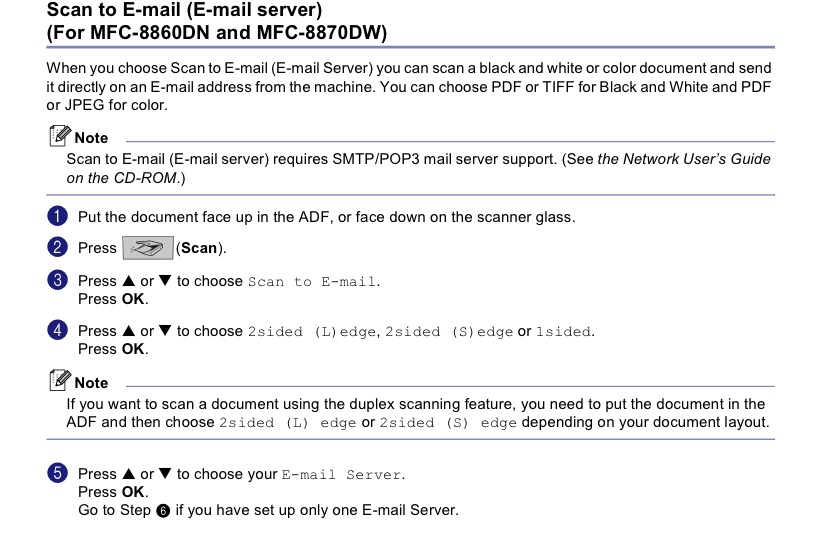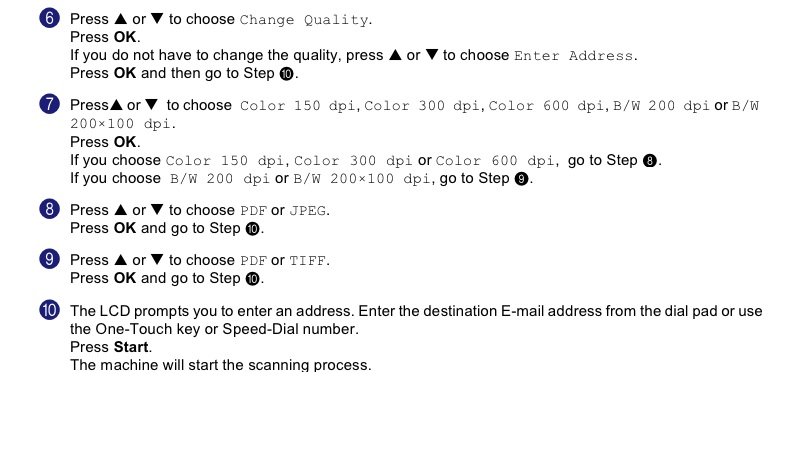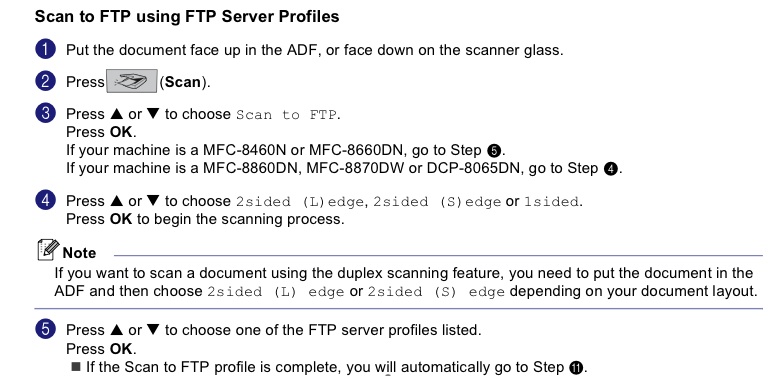 At CERI you should use one of the provided profiles

Some useful tips and information concerning how best to utilize the

CERI

network scanner:
For small document scans, scanning to email may prove to be the best option. If you encounter the dreaded "NG" or "Out of Memory" error (or your scan to email just plain fails with a "Sending Error"), then try the scan to FTP option (see next two bullet points). It may not take a very large document to fail a scan to email (which may well be due to size restrictions imposed by the University mail server upon outbound email).
For large multi-page documents, scanning to ftp as a

PDF

document may work out the best. If you scan to FTP using

JPEG

, each page will end up in a separate file on the

CERI

FTP server. If you scan to FTP using

PDF

, all the pages will end up as one

PDF

file. One of the predefined options allows you to scan B/W documents as 200dpi

TIFF

files. If your document has a large number of pages, and/or is scanned at high resolution, you may need break it into smaller groups of pages to scan separately due to the memory capacity limitations of the network scanner.
The following table lists the One-touch presets that have been assigned to email addresses (when you choose send to email and are prompted for an address, pressing the corresponding number key on the One-touch keypad on the left side of the scanner will automatically fill in your email address as the destination; You may also key an email address in manually (and tediously), much as you would using the text messaging feature on a cell phone, using the dialing keypad on the right side of the scanner):

Name & (UUID)
One-touch Key
ASMEROM, Biniam (bbasmerm) 37
AYELE, Solomon (stayele) 11
BATEMAN, Jeremy (jbateman) 39

BOLLWERK, Jim (jbollwrk) 3
BOWKER, Carol (clbowker) 19

BREWER, Holly (hbrewer) 4
BREWER, Steve (sbrewer1) 5
BROADBENT, Tanya (tbrodbnt) 6
CHIU, Christy (scchiu) 7
CHIU, Jer-Ming (jerchiu) 8
CRAMER, Chris (ccramer) 9
DAVIS, James (jpdavis) 10
DEBULA, Robert (rdebula) 2
DeSHON, Heather (hdeshon) 12
DUNN, Meredith (mmdunn) 14
GRANT, Buck (egrant) 16
HORTON, Steve (shorton) 17
JAMERSON, Leonard (ljamersn) 18
JOHNSTON, Arch (ajohnstn) 20
KUTLIROFF, Jerome (jkutlrft) 21
LANGSTON, Chuck (clangstn) 22
LAWRENCE, Zack (zlawrenc) 23
LIANG, Chuntao (cliang) 24
LIN, Ting-L (tllin) 25
MAGNANI, Beatrice (mmagnani) 26
MARSHALL, Deshone (dlmrshll) 38
McCALLISTER, Natasha (nramsey) 27
McGOLDRICK, Chris (gmcgldrc) 28
MITCHELL, Leah (lmmtchl2) 29
MORAN, Nathan (nkmoran) 30
POWELL, Chris (capowell) 31
PUCHAKAYALA, John (jpuchkyl) 32
RABAK, Ivan (irabak) 33
SEDAGHAT, Al (asedaght) 34
SMALLEY, Bob (rsmalley) 35
SMITH, MICHELLE (mesmith) 13
SPIKES, JENNY (vspikes) 15

TUCKER, Kathleen (ktuckerl) 36
WITHERS, Mitch (mwithers) 1